Garage Door Spring Installation San Bernardino County and Riverside County, California
Garage Door Stars provides professional garage door screen installation services to homes and businesses located everywhere throughout San Bernardino County, Riverside County, and the entire Inland Empire region of Southern California. If you want to transform your garage to a functional living or workspace, installing a retractable or roll-up garage door screen is a fantastic solution. Garage door screens allow you to experience fresh air and sunshine while inside your garage while keeping insects, solar glare, and debris out of your garage space. Our skilled team of garage door screen installation technicians utilize high-quality screen systems that work with all forms of garage tracking and/or sliding doors, and are super easy to operate. We install a broad range of garage door screen types to match all types of garage styles, sizes, and configurations and can custom-tailor our garage door screen installation service to match the unique needs of your property. Contact Garage Door Stars today for all of your Southern California garage door screen installation needs.
Benefits of Garage Door Screens Include:
Transformation of your garage area into a comfortable living / work space
Reduction of solar glare and damaging UV rays, making it more comfortable to watch TV or use a computer in your garage
Protection against wind, debris, insects, and other pests
Improve your privacy while still retaining visibility and fresh air
Garage Door Screen Installation Pro - Enhancing Your Space
When you choose Garage Door Screen Installation, you're opting for an expert team dedicated to transforming your garage into a versatile and comfortable space. Our services encompass everything needed to install garage door screens seamlessly, ensuring you enjoy a pest-free, well-ventilated environment. Here's how we bring your vision to life:
Initial Consultation: We begin with an in-depth consultation to understand your requirements and preferences. Whether it's a retractable screen, sliding screen doors, or other solutions, we'll help you choose the perfect fit for your garage.
Measurement and Customization: Precision matters, and our professionals take meticulous measurements to ensure your garage door screen is tailored to your garage's dimensions. We offer a range of customization options to match your aesthetic.
Quality Materials: We source high-quality materials designed to withstand the elements and offer durability. Your garage door screen will not only look great but also provide long-lasting performance.
Professional Installation: Our installation team is skilled and experienced, ensuring your garage door screen is mounted securely and functions flawlessly. We handle the installation process efficiently, from framing to attaching the screen.
Weatherproofing: To maintain a comfortable climate inside your screened-in garage, we expertly apply weatherproofing measures to seal any gaps and prevent drafts, rain, and pests from entering.
Screen Operation: We ensure that your garage door screen operates smoothly. Whether you choose a manual or motorized option, we'll explain its operation, ensuring you have full control.
Quality Assurance: Our professionals conduct rigorous quality checks, testing the screen's functionality and making any necessary adjustments for optimal performance.
Safety Features: For your peace of mind, we install safety features such as auto-retract mechanisms, ensuring the screen operates safely around pets and children.
Maintenance Guidance: We provide you with maintenance tips and a schedule to keep your garage door screen in excellent condition for years to come.
Cleanup: Our commitment extends to leaving your space pristine. We'll remove any debris and packaging materials, leaving your screened garage clean and ready to enjoy.
Warranty and Documentation: We provide you with all warranty information and necessary documentation for your garage door screen installation, giving you confidence in our work.
At Garage Door Star, we aim to create a comfortable and functional space that complements your lifestyle. Contact us today to explore the possibilities of garage door screens, and let us transform your garage into a versatile and inviting area for you and your family to enjoy.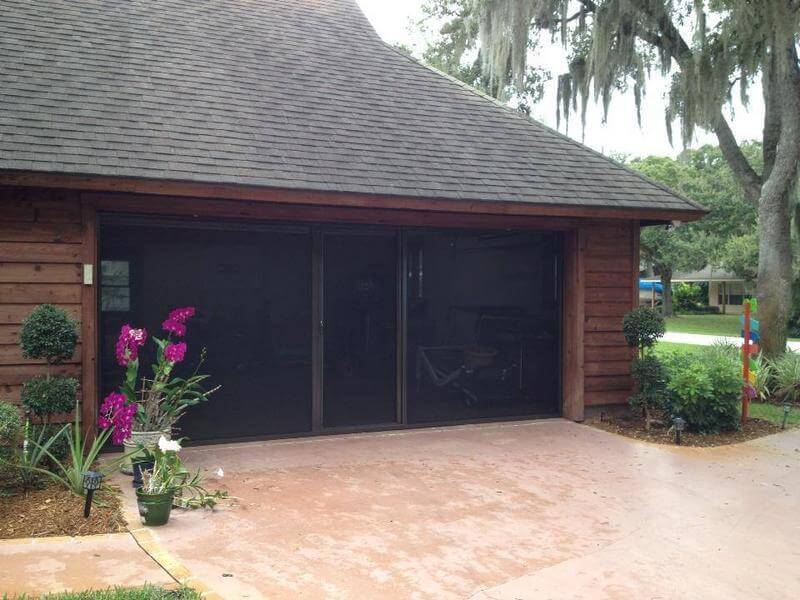 Garage Door Stars installs a wide range of garage door screen types including:
Screen your garage area without needing to purchase a motorized roll-down screen. These retractable screens easily open and close with spring-loaded technology. These garage screens are affordable, light yet durable, and super easy to use.
Aluminum Frames
Tracks that Require Little Maintenance
Easy Opening and Closing
Door-Within-A-Door Feature
Fits in Your Existing Garage Opening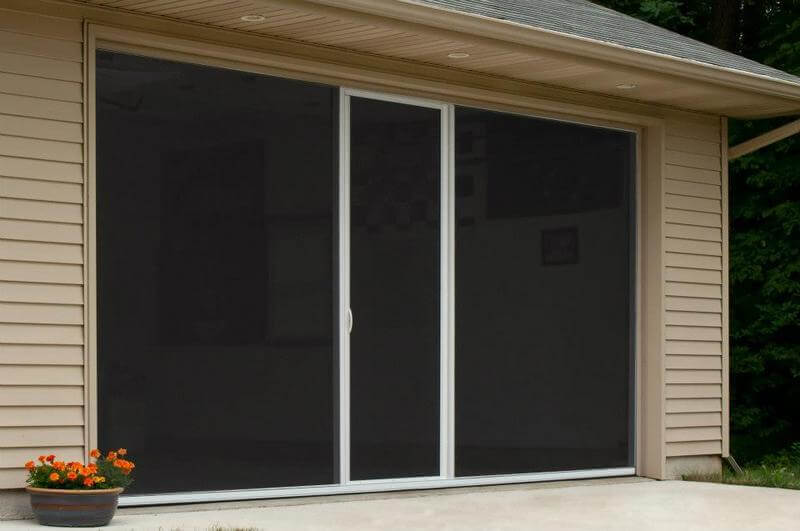 Garage Door Screen Materials include:
Fiberglass Garage Door Screens– Used in both residential and commercial properties. Light, rust and corrosion-resistant, and very difficult to permanently bend or dent. Highly versatile and can be constructed in many different sizes and configurations.
Pet Resistant Garage Door Screens– Special heavy-duty garage screens ideal for homeowners (or business owners) who have a pet on site. There's a wide range of durable pet-resistant garage door screens that can be matched to the size and potential force of your pet.
Coated Polyester Garage Door Screens– These are ideal for garages that require extra strength. These specialty screens are more expensive than fiberglass, but last much longer. It's often used in sliding screen doors, areas with extreme weather changes, and in low windows.
Solar Garage Door Screens– These are ideal for garages that absorb lots of heat and sunlight. They have a special dark exterior that helps to block out the warmth of the sun and absorb excess heat while also providing privacy for the garage interior.